Budo is Martial Arts Training, but it is also much, much more ...

Budo training is about life's challenges.

Training in our art prepares one for these challenges.

Budo is about the challenges facing adults.

And those facing kids.

Budo is about self-perfection and life balance.

And it is about exposure to culture.

For regular people.

Who want more from life.

And, of course, it's effective Self-Defense.

For everyone.

But most of all, Budo is about having a longer, more fulfilling life.
Welcome to Budo!
(formerly East-West Karate)


Renshi Dombeck, PhD
Head Instructor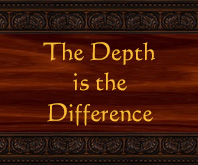 Where Good Guys Finish First!
DEVELOP ULTIMATE POWER!
Do You Have What It Takes?
To reach the Highest Level of Martial Arts the highest level of Character is required.
At Budo Dojo, we teach the highest level of Martial Arts, to those who are worthy.
· Commitment · Loyalty · Respect ·
---
· Understanding ·
· Health ·
· Self-Defense ·
· Discipline ·
· Longevity ·
· Fitness ·
and much, much More
---
For All Body Types
and Skill Levels !
---
Come see what we
mean when we say:
THE Classical Martial Arts
Training Center
---
Go Beyond Martial Arts -
Master Yourself
Master Your Life !
---
Start any time · NO CONTRACTS
---
or use the Menubar at the top of the page to learn about
Family Martial Arts Philosophy, Kids Program, Weapon Arts (Kobudo) Program, Head instructor
and much, much more.